Okay, so it was the Oscars, AKA White (Usually Male) People Giving Other White People Awards Night.
77% of Academy Award voters are male. 30 men took home trophies on Sunday, while only 9 women did.
We know all this. But still. Come on.
1. Seth MacFarlane hosted.
Okay, let's backtrack for a second: with Family Guy, American Dad, and summer blockbuster Ted under his belt, MacFarlane has been riding on a wave of success. His comedy style can be defined as satirical and hilariously raunchy at best, severely inappropriate at worst, leaning heavily on racism and misogyny as a crutch for humor.
Of course, comedy is a tricky thing. It certainly isn't funny unless the comedian takes some risks, and it's impossible not to offend a single person. Also, a culture of the roast does exist at awards shows, of poking fun of the attendees – even feminist role models Tina Fey and Amy Poehler play into this stereotype.
And yet – why did the butt of all of these jokes have to be women or ethnic minorities?
2. Seth MacFarlane opened with the Boob Song.
When I first saw this on the Internet, I was fucking fuming. I thought that the segment was filmed in real-time, that the host was actually singing "We Saw Your Boobs" at a crowd of powerful, talented women, that he had reduced their roles to a single body part, and that the actresses' incredulous, cringing faces were their honest reactions.
The song was aimed at just about every successful, award-winning actress in Hollywood today: Meryl Streep, Naomi Watts, Angelina Jolie, Anne Hathaway, Halle Berry, Nicole Kidman, Marisa Tomei, Kristen Stewart, Charlize Theron, Helen Hunt, Scarlett Johansson, Jessica Chastain, Jodie Foster, Hilary Swank, Penelope Cruz, and Kate Winslet (multiple times for her, evolving into a slut-shaming of her choices in movie roles that involve nudity).
Turns out they were all acting. MacFarlane's segment was pre-filmed, an exploration of what would have happened if he accidentally did something wildly offensive at the Academy Awards.
Of course, this distorts my lens of perception. Is it better because it wasn't real? Sure. Were there tons of other jokes that were made in real-time to actresses who were caught off guard by MacFarlane's blatant misogyny? Yes.
(Like when inviting announcers Jennifer Aniston and Channing Tatum to the stage, he announced that only one of them had admitted to being an exotic dancer in their previous career, an accusation which Aniston, true to form, ignored sunnily.)
So, what does it mean that he referenced so many critically acclaimed, difficult roles – only giving them value for the seconds that skin was shown? What does it do to add Scarlett Johansson's nudity scandal to the song, which was not for a role but instead a breach of privacy, or to reference Jodie Foster's rape scene in which her breasts were bared?
As Vulture said best, "…and the relentless commentary about how women look [was] reinforced, over and over, that women somehow don't belong. They matter only insofar as they are beautiful or naked, or preferably both. This wasn't an awards ceremony so much as a black-tie celebration of the straight white male gaze."
3. When presenting Tarantino's latest, MacFarlane quipped, "Django is a movie where a woman is subjected to violence, or as we call it, a Chris Brown and Rihanna date movie."
This joke is absolutely insidious, of course, but what hurts most is that it wouldn't even have been relevant a year ago, because the two were not together following Brown's assault. However, as the two have been getting closer, and speculation follows them everywhere, the host capitalized on recent media scrutiny to hearken back to an event that happened years ago and to joke about domestic abuse in a disheartening double whammy.
4. This one is a little iffy because nothing was said too directly, but MacFarlane made a joke about an orgy that would happen post-ceremony at Jack Nicholson's house. In 1977, Roman Polanski was actually charged with the drugging and rape of a 13-year old girl at Nicholson's house.
5. In a disgustingly outdated and racist joke, MacFarlane pretended to confuse Denzel Washington and Eddie Murphy.
6. When presenting Selma Hayek (and putting Javier Bardem and Penelope Cruz on the list of potential presenters), MacFarlane claimed that although nobody could understand what the celebrities were saying, nobody cared because they were all "so attractive."
7. He made a joke about how women attending the ceremony all got the flu beforehand so that they would be able to fit into their dresses.
So not only does he further the tired, patriarchal dialogue in which women are only valued for their looks, extolling Selma Hayek and the rest of the serenaded Boob ladies only for their physical appearance, he then MOCKS women for playing into said culture and trying to achieve the impossible standard that he himself sets.
8. The amazing Jessica Chastain's role in Zero Dark Thirty, for which she was nominated for Best Actress, was explained away as a movie that epitomizes "a woman's innate ability to never let anything go."
Well, it goes to show that only a true comedic talent can take a strong, complex female character and flatten her out into a two-dimensional stereotype on national television.
9. He sexualized young Quvenzhanè Wallis, precocious and adorable star of the Beasts of the Southern Wild, saying, "To give you an idea of just how young she is, it'll be sixteen years before she's too old for Clooney."
There were so many things MacFarlane could have commented on – her adorable puppy purse, for one! – but instead, he relied on the idea that Hollywood women exist for men to date them, only to be thrown to the wayside when they become too old. Of course, he directed the comment not to a woman but to a nine-year old girl.
Wallis is just as sparkling and lively in real life as she was in the movie. She was recently cast as Annie in Jay-Z and Will Smith's production of the musical, and when told by a reporter on the Red Carpet that she would just call her by the title character's name, the girl replied confidently, "My name is not Annie. My name is Quvenzhanè."
10. This Onion tweet:
Calling a nine-year old girl – especially a nine-year old girl of color – the ugliest gendered insult out there is not valuable satire. It is emotional and verbal abuse. It's an abuse that's only fundamentally possible in a misogynistic culture where little girls grow up into women who are consistently objectified, their breasts the most important part of Oscar-winning performances, their physical appearances the only valuable thing about them.
It's also safe to say that the cost-benefit analysis of making such an inflammatory "joke" would have gone the other way if the young actress were white. After all, these jokes don't get made to the Abigail Breslins or the Suri Cruises, because the reception would be completely different.
It's common knowledge that women and girls of color already have to endure a shit-storm of intersectional racism and sexism, but I never thought that I would see a nine-year old girl having to endure being called a cunt on the Internet by a reputable satirical newspaper with 4 million Twitter followers. She will never escape that kind of publicity. When will she find out what the word means and why they called her it? What does this disrespect towards Wallis teach other girls of color growing up in the United States?
11. Perhaps a less obvious form of racism in the Oscars is represented by who the awards go to.
SALON explains: "if you've been to the movies in the last half-century, you know the White Savior genre well. It's the catalog of films that features white people single-handedly rescuing people of color from their plight. These story lines insinuate that people of color have no ability to rescue themselves. This both makes white audiences feel good about themselves by portraying them as benevolent messiahs (rather than hegemonic conquerors), and also depicts people of color as helpless weaklings — all while wrapping such tripe in the cinematic argot of liberation."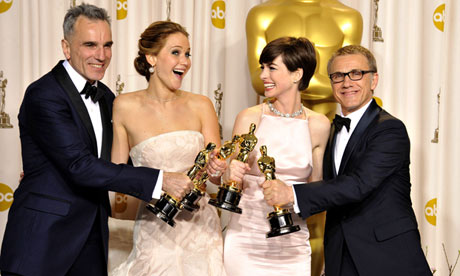 Don't get me wrong – I thought both Christoph Waltz and Daniel Day-Lewis gave nothing less than stellar performances. However, can we start honoring movies where people of color empower themselves, as history has repeatedly shown?
Advice for next year, Oscars? Simple. DO BETTER.
Image Credit to Buzzfeed and Google Images
– Amy LaCount, Editor-in-Chief