Welcome to another week of feminist web surfing! In Weekend Links we gather a set of the most engaging journalism, prose, poetry, art, and Interweb images or memes we have come across. We hope with this small curation of links to illuminate the work of the prolific and active feminist blogosphere.
Want To Write For the Blog?
We have been in the process of building an engaging, diverse, inclusive and community-driven group of  writers, artists and thinkers interested in feminism, gender, sexuality, race, class, and issues of identity and disparity more broadly. Our blog and  print platforms feature all sorts of content: fiction, nonfiction, poetry, visual art, comedy, interviews, hard-hitting journalism,  personal memoirs and testimonies, and academic writing focusing on culture, politics, sex, health, and anything else related to women's or minority's rights and/or issues. We encourage everyone to consider submitting any piece that they believe is pertinent to our project as a publication. For more information, see our call for submissions. Send submissions to blogbluestockings@gmail.com.
Links We Like
President Obama intends to take major executive action on equal pay. [ACLU]
Is the Oculus Rift sexist? [QZ]
The Social Security Administration updates transgender policy. [The Advocate]
Technology's man problem. [New York Times]
New zine, "THE TENTH", explores queer black male identities. [Huffington Post]
Catholic Church baptizes the baby of a lesbian couple in Argentina. [CNN]
The secret lives of Afghani female poets. [Slate]
Karyn Washington, the creator of FOR BROWN GIRLS, sadly recently committed suicide, may she rest in peace. [Black Media Scoop]
Learning to be brown and beared in Brooklyn in a post-9/11 America by Alok Vaid-Menon of Darkmatter. [Buzzfeed]
Today in trans*humanism: Lab grown vaginas have been successfully implanted in four cis women. [The Verge]
On interracial dating at Brown (the first in a series of POC's experiences at Brown.) [BDH]
What if the minimum wage was $15 per hour? (Seattle as a Pilot Study.) [The Nation]
Keynote: Moving toward the ugly, or a body politic beyond desirability that's inclusive of disability. [Leaving Evidence]
Brown students and workers unite to convince Brown University to boycott the exploitative Renaissance Hotel. [The Nation]
Over easy: how elite educations disadvantage women's employment options, but skyrockets the price of their ovaries. [The New Inquiry]
On the etymology, history and limitations of the term "bisexual." [Autostraddle]
Why environmentalism isn't just a white people's issue. [Black Girl Dangerous]
On decolonizing Israel. [The New Inquiry]
Stop telling survivors of sexual assault to reach out to the police. [Feministing]
On being incorrectly diagnosed with an eating disorder at Yale. [The Huffington Post]
The black radical imagination.
A trans teen girl is being held in a Conneticut all-male prison without charges. [Democracy Now!]
Giving survivors of the war on drugs/youth/black and brown bodies a 2nd chance. [Colorlines]
16 body-positive images to start your day. [BUST Magazine]
Tavi Gevinson interviews Miley Cyrus; the only reason we care is because Tavi does. [Oyster Mag]
Spoken Word Poem of the Week
In "Pride," Sibel Sayiner & Violet Trachtenberg critique the problems with the corporatization of LG(BTQ) issues. So fucking on-point.
Quote of the Week
"

When you're a trans woman you are made to walk this very fine line, where if you act feminine you are accused of being a parody and if you act masculine, it is seen as a sign of your true male identity. And if you act sweet and demure, you're accused of reinforcing patriarchal ideas of female passivity, but if you stand up for your own rights and make your voice heard, then you are dismissed as wielding male privilege and entitlement. We trans women are made to teeter on this tightrope, not because we are transsexuals, but because we are women. This is the same double bind that forces teenage girls to negotiate their way between virgin and whore, that forces female politicians and business women to be agressive without being seen as a bitch, and to be feminine enough not to emasculate their alpha male colleagues, without being so girly as to undermine their own authority.

" – 

Julia Serano, 

Excluded: Making Feminist and Queer Movements More Inclusive

, p 28-9
Internet Images FTW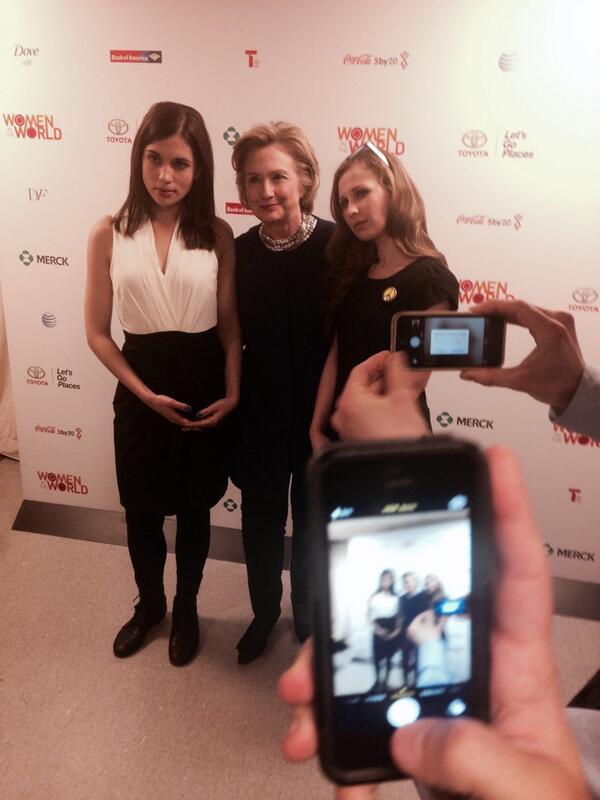 Featured Image Courtesy of Elizabeth Goodspeed